The Music Room - Live!
Friday May 11th
Variety Night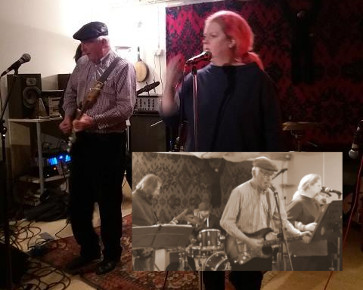 Featuring (in reverse order):
All Bar One (pictured) - 5 piece function band
Sally Scarbrow - Vocals
Adrian Tilley - Guitar & Vocals
Nigel Wayne - Tenor Saxophone
Trevor Melhuish - Bass
Dan Marino - Drums
Panic Pete and the Roughbeats - 4 piece 'rockin' band
Peter Shields - Guitar & Vocals
Lauren Fuller - Tenor Saxophone
Trevor Melhuish - Bass
Howard Gayton - Drums
Tansy Rice (vocals) & James Goodwin (guitar) - Jazz classics
The Briars - a cappella trio
Michelle Hughes
Morwenna Millership
Marilyn Livingstone
Trev Munkenbeck & Kat Barlow - Folk songs
Mike Palmer - Folk songs and tunes accompanied by James Goodwin
---
Venue: The Sports Centre, Winkleigh, EX19 8HZ
The Music Room is an activity of Hollocombe Music Club.
For further information about our forthcoming events, please add yourself to the Hollocombe Music Club mailing list.