The Music Room - Live!
Our event in March 2017 was headined by
4 Parts Blue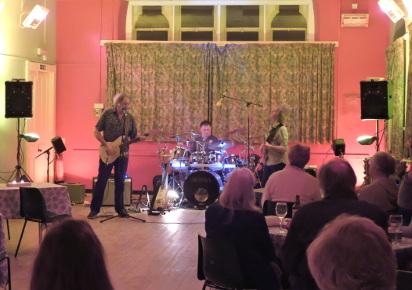 4 Parts Blue are a seasoned, Exeter-based blues band with an original approach to this classic genre. A mix of influences and backgrounds combine to create their unique sound:
Paul Jones (No, not that Paul Jones) is usually the band's front man, but for this event his place will be taken by blues legend Julian Piper (Junkyard Angels) on guitar and vocals.
Rawden Johnson certainly knows how to play some great blues riffs on his electric bass.
On drums (lots of them!), Tim Lowther blasts his way through the repertoire with solid, powerhouse grooves, tightly matched to Rawden's rich bluesy bass.
4 Parts Blue played two sets stuffed to the gunwales with great blues vibes. Several people just couldn't resist the urge to get up and dance.
4 Parts Blue last appeared at Hollocombe Music Club in November 2015 with Paul Jones on guitar and vocals.
4 Parts Blue were supported by
Adrian Shearing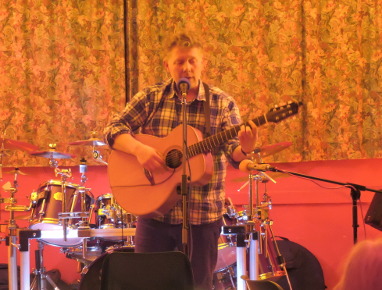 We were treated to some great finger-picking guitar playing from Adrian Shearing. ...and what a great voice too. Adrian played us songs of several styles, including the blues, but also a couple of folk tunes - something to do with him usually playing guitar for Sheer Hopody Barn Dance Band perhaps? Lots of requests to have him back :-)
The Music Room is an activity of Hollocombe Music Club.
For further information about our forthcoming events, please add yourself to the Hollocombe Music Club mailing list.