The Music Room - Live!
Our event in Friday June 9th was headlined by
Tansy Rice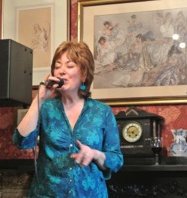 Popular local Jazz singer Tansy Rice made this second appearance at our club, but this time joined by keyboard wizard Tom Unwin (the 'Blow-Up'), double bass phenomenon Ron Phelan, and clarinet maestro Anita Munson. They performed two sets, packed full with some very high quality music. Very nice.
Also appearing were:
Rough Diamonds
For lovers of Sax: Four lovers of Sax! A vibrant sax quartet playing a wide range of tunes from across the years. The richness of the sound from these four was incredible. Amazing.
---
...and starting the whole evening off we had:
Green Willow
Jacqueline Kenny (vocals and flute), Steve Symes (guitar), and Chris Knox (flute).
The Music Room is an activity of Hollocombe Music Club.
For further information about our forthcoming events, please add yourself to the Hollocombe Music Club mailing list.