The Music Room - Live!
Our event in June 2016 was headlined by
Jon Dyer and Alfie Gidley
Jon and Alfie's repertoire is rooted in the celtic tradition but, with many original tunes by Alfie, a handful of English tunes and the odd Balkan melody thrown in for good measure, their performance kept us all entranced right up to the last note. The duo are not afraid to make their chosen material their own, intricately arranging tunes to fit the musical landscapes they create, bending tunes to fit new and often unpredictable time signatures and modes. But more than that, they were two very nice guys who loved their music and enjoyed playing to a lively audience. They were joined for a couple of songs by Polly Meyrick whose voice lifted the soul. If this is the future of folk music, it's in safe hands.
There are some excellent recordings of them to listen to on bandcamp.
Also appearing was:
Tim Budden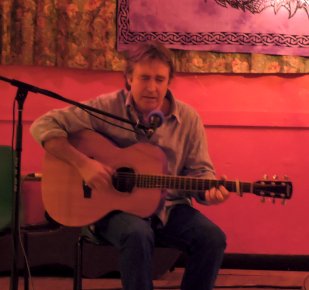 A folk singer, songwriter, and organic farmer, Tim sings songs about the glorious Devon countryside and the farming life he loves.
Tim previously performed at the HMC in December 2014 and February 2015. Back by popular demand, his performance didn't disappoint.
The Music Room is an activity of Hollocombe Music Club.
For further information about our forthcoming events, please add yourself to the Hollocombe Music Club mailing list.