The Music Room - Live!
Our event in Friday July 14th was headlined by
The Hot House Four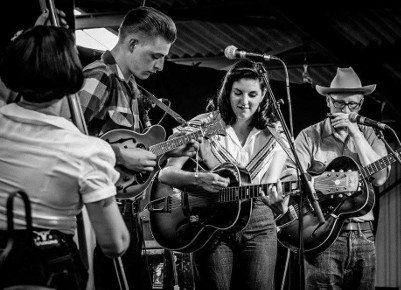 Since swapping the television for a piano back in 2013, The Hot House Four soon progressed from jamming in their lounge in Newton Abbot to being a 'proper' band in a matter of months. Willy Briggs together with his wife Lisa Briggs forged ahead with daughter Lola Gaskin-Briggs and Dan Morley to play some early American roots music to eager audiences across the UK and beyond. They blend a creative mix of Western swing, early jazz, blues, swing and ragtime, performed with considerable exuberance on twin guitars, accordion, lap steel, harmonica, mandolin and upright bass.
Over the last two years, The Hot House Four have gone from strength to strength, breaking through onto several music scenes including Folk, Blues, Jazz, Americana and Rockin'. Having made such an impact in the UK, France and Holland in 2016, it stands to reason that they would want to put in an appearance at Hollocombe Music Club in 2017 ...and was it good. They played two full sets and still the crowd demanded more! One person suggested another hour would still not have been too much.
Also appearing was:
The Rockin' Trio
A new Chagford-based band brought us some classics from the 1950s and early 1960s. The perfect aperitif to The Hot House Four.
---
...and starting the whole evening off we had:
Adrian Shearing
A second appearance from Adrian, delivered in his very own, laid-back style.
The Music Room is an activity of Hollocombe Music Club.
For further information about our forthcoming events, please add yourself to the Hollocombe Music Club mailing list.