The Music Room - Live!
Our event in February 2018 featured
The Julian Piper Trio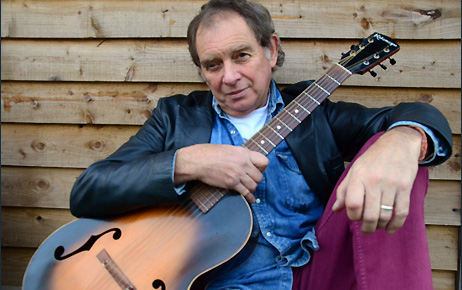 Since he first became entranced by the music of Lightning Hopkins on an album purchased in Woolworths for 12/6, Devon based guitarist Julian Piper has enjoyed a unique career playing the 'Devil's Music'. Appearances include the New Orleans Jazz Festival, Morgan Freeman's Ground Zero Club in Clarksdale Mississippi, Rosa's in Chicago and just about every major blues festival in the UK and Europe. In 1987 he spent a year in Baton Rouge Louisiana where he was taken under the wing of Rocking Tabby Thomas, performing at his celebrated club the 'Blues Box'. In between times his band Junkyard Angels toured with many American blues artists including Carey and Lurrie Bell, Eddie Kirkland, Lazy Lester and many more, sharing stages with Buddy Guy and Jnr Wells and the Robert Cray Band. Albums on which he played guitar with Lazy Lester and Carey Bell, both received W.C. Handy Awards, the blues equivalent of the Oscars.
Appearing with Julian was:

- bassist and guitarist Chris Billings, a veteran of work with John James and the legendary Dick Heckstall Smith ex Alexis Korner band,

- and percussionist Lucy Piper, recently appearing in America with Bill and Shy Perry.
Also appearing was:
Gareth Hedges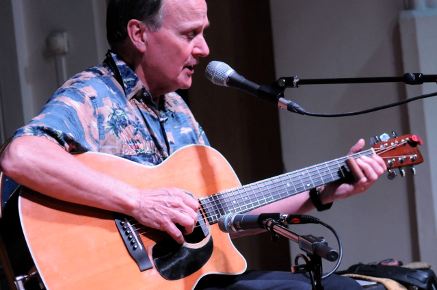 In the 1960's Gareth was inspired when he heard and subsequently met many of the great American blues and folk performers touring in the UK, even becoming the road manager for several of them, including guitarist Mississippi Fred McDowell, blues pianist Curtis Jones, Old Time banjo player Clarence Ashley, and mandolinist and the founding father of bluegrass, Bill Monroe.
In the late 60's he moved to America, seeking out the musicians he admired, visiting, performing and some times driving for them. Among the many luminaries were Son House, Elizabeth Cotton, Sonny Terry & Brownie MGee, John Lee Hooker, Rev Pearly Brown, Doc Watson and Gary Davis and Gareth enjoyed learning from these masters of Delta, Piedmont and ragtime blues guitar.
And starting the evening off we had:
The New HMC Band
Adrian Shearing (guitar and vocals), Steve Symes (guitar and mandolin), and Trevor Melhuish (bass).
---
The Venue was: The Waie Inn, Zeal Monachorum, EX17 6DF
---
The Music Room is an activity of Hollocombe Music Club.
For further information about our forthcoming events, please add yourself to the Hollocombe Music Club mailing list.