The Music Room - Live!
Our event in April 2017 was headlined by
The Moon Jazz House Band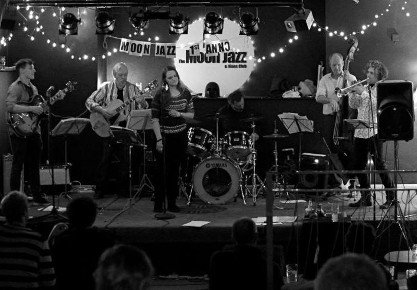 The Moon Jazz House Band is an impressive 8-piece jazz band based at the Moon Jazz Club in Crediton. A sparkling constellation of star performers, with the irrepressible Jess Laver on vocals, gave us two varied sets of some memorable tunes. Very well received by an appreciative audience.
Here's just one of the comments:
Thanks for another superb evening of music, this time with The Moon Jazz House Band. Jess Laver was excellent as were all of the musicians. The hard-working drummer never stopped. Now looking forward to next month.
...and starting the whole evening off we had
The Hollocombe Trio
The Hollocombe Trio are Nisheetha Thornycroft (concertina and vocals), Steve Symes (guitar), and Chris Knox (flute and whistles), but Nisheetha was unwell so Chris and Steve put together an excellent instrumental set for us.
The Music Room is an activity of Hollocombe Music Club.
For further information about our forthcoming events, please add yourself to the Hollocombe Music Club mailing list.