Hollocombe Music Club
Our event in September 2017 was headlined by
Alex Kumar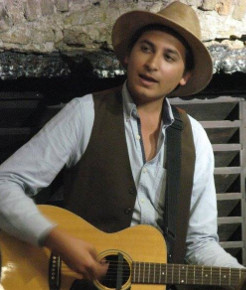 Once again, Alex was superb. His singing and guitar playing were excellent last time he performed here, but this time he somehow managed to improve even on that. He is also developing a very good sense of humour. A class performer already, Alex will be a star.
Also appearing was:
From Mozart to Mancini
A top quality performance of some familiar tunes and songs from Jacquie Kenny on flute and vocals, and Chris Cleverdon on piano.
Hollocombe Music Club organises regular live music events in Winkleigh, North Devon featuring musicians from across the county.
For further information about our forthcoming events, including dates and times etc., please add yourself to the Hollocombe Music Club mailing list.